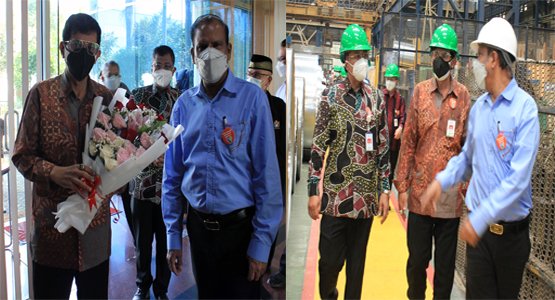 Indonesia Ministry of Industry Visit to AM/NS Indonesia
Monday 26th July 2021 was a precious moment for PT AM/NS Indonesia where a visit from Mr. Dr. Ir. Taufiek Bawazier as the Director General of ILMATE (Metal Industry, Machinery, Transportation Equipment and Electronics) who was welcomed directly by the President Director of PT AM/NS Indonesia, Bapak. S.K Subramanian.
Accompanied by Mr. Masrokhan MPA as Inspector General and Mr. Ir. Budi Susanto as the Director of the Metal Industry and the team of the Ministry of Industry of the Republic of Indonesia in order to see firsthand the effectiveness of the production process at PT AM/NS Indonesia during the PPKM period.
This shows that PT AM/NS Indonesia is one of the essential and critical companies that continues to work to support the needs of the Indonesian steel industry for both the domestic and export markets.
Because the steel industry is one of the strategic sectors because its production supports a number of other sector activities.
In a pandemic condition, PT AM/NS Indonesia's utility runs 100 percent because it is supported by export markets, especially to the United States. The Ministry of Industry appreciates PT AM/NS Indonesia for implementing strict and disciplined health protocols in addition to vaccinating all it's employees.