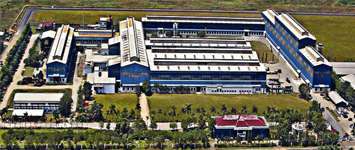 PT AM/NS INDONESIA commenced its commercial operations in 1997 and it is the largest producer of Cold Rolled Steel in the private sector in Indonesia.
Equipped with state-of-the-art technology, it is located at MM 2100 Industrial Estate, a world class infrastructure and facility, 25 Km on the Jakarta-Cikampek highway with close proximity to its customer base and raw material suppliers, catering diverse market segments with exacting international quality standards of the domestic and international market and a wide customer base in Indonesia and other countries.
With an Installed rolling capacity of 400,000 MT per annum including 150,000 MT per annum of galvanized products and 100,000 MT per annum of CR Soft products, PT AM/NS INDONESIA plans to focus on value added soft CR products.